If you use RSS readers to stay in the know about trends and developments in your industry, you are probably familiar with names like Feedly, Digg, or AllTop.
Those are wonderful tools to keep all your feeds accessible from any device. Unfortunately, it can be easy to forget that they exist, especially if you have to do other things during the day.
Bloggers know the problem well. That's why most of them offer email subscriptions or newsletters. They want to stay top of mind with their readers, clients, and prospects.
Paper.li works in a similar fashion. Every time a new edition of your paper is published, subscribers will be notified by email. Quite awesome, right?
Today, I'll show you how you can use Paper.li to replace your regular RSS reader.
Create Category-Focused Papers
A service like Feedly allows you to organize your feeds by collections. For example: marketing, content curation, stats, trends, etc.
You can achieve the same result with Paper.li. It is particularly useful when you follow hundreds of sources.
First, create a paper for each main category you want to monitor. Using the collections I mentioned above, basic titles could be:
The Marketing Paper
The Content Curation Paper
The Stats Paper
The Trends Paper…
Then, add the relevant sources to each paper. Now, you're set. Each time a new content collection is published, you'll receive a news alert to your inbox.
Now, if you're setting up these alerts for your team or department, you may want to consider the Pro version of Paper.li. You can set your papers to private, which is great if you want to stay in "stealth mode". You also have more options for email alerts: you can send the standard single notifications, the Top 5 Articles, or a full page of content to your inbox.
If you believe a daily may be overwhelming, you can edit your publishing schedule for weekly alerts to be sent. It means that you can have the email notifications delivered throughout the week, instead of just one day.
A great way to stay organized and focused, right?
Add Your Sources  
If you have specific industry resources in mind, adding the RSS for your favorite sites directly to your paper works really well. You can do this by pasting the feed in the content search field or by entering the name of the blog.
Paper.li has a powerful internal search engine that surfaces relevant results from Twitter, Google+, YouTube and RSS, based on the keywords of your choice. However, there is a limit (25) on the number of sources that can be added, which can be restrictive for marketers and content curators.
I've found an easy solution to get around this called Twitter Lists! They are fabulous because you can add up to 5,000 accounts to each. So, instead of working from RSS feeds for your sources, you can take advantage of one of Twitter's best features.
How? Here is a quick tutorial for you.
First, create the list you want to add to your paper. If you're not familiar with how to do that, here's a great tutorial.
Now, let's walk through the process of adding your list as a source to your Paper.li paper:
Log into your Settings Dashboard and click the Content tab.
Select "Your Twitter account" on the next screen.
Scroll down to "Twitter Lists" and click the + sign to add the list as a source. Only public lists will be available.
Note: You can also search for lists manually. Just enter the link in the search box at the top in the following format: @username/name-of-list. For example: @cendrinemedia/favorite-twitter-chats or @paper_li/paper-li-champions.
To find the permalink for a list, just go to that list on Twitter. Copy the URL from your browser's address bar and paste it in Paper.li's search bar. Don't forget to replace "https://twitter.com/" with "@" and remove "/lists/".
Additional tip: You can bypass the 25-source limit for RSS feeds as well. All you have to do is merge several feeds into one with Feed Informer.
For a great step-by-step guide on how to use the tool, read this page. You can also check out the tutorial I created for you below: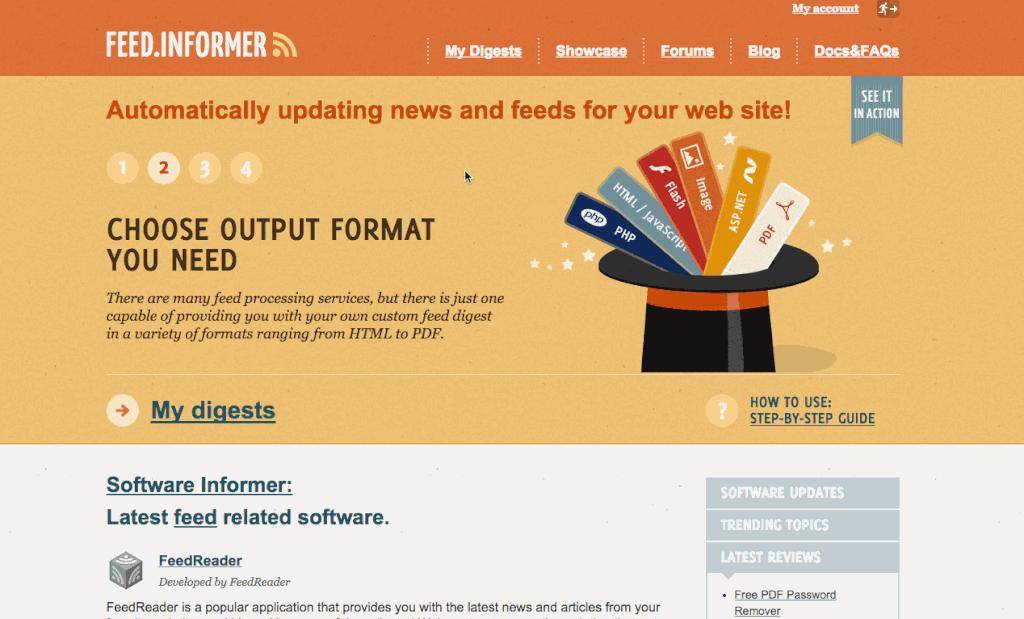 To add your merged feeds to your Paper.li paper, paste the Rss-formatted link from Feed Informer into your Search box in your settings dashboard. Make sure you remove the "s" from "https". Otherwise it won't work. So, for example: http://feed.informer.com/digests/GFJMS6QW66/feeder.rss.
The source will appear under RSS. Just click the + sign to add it.
Fine-Tune Your Paper
Once you've configured your content, here are a few ways you can fine-tune.
Add a filter – Search filters are an overlooked Paper.li feature. You can use them with any list you create to cut down on unwanted content on your paper. And the best part: It works for both RSS feeds and Twitter lists!
Rename your categories (Pro feature) – This will help you keep things more organized, especially if you only want to check specific sections of your papers.
Customize the look and feel of your papers – Little cosmetic changes can have a big impact on how we use a tool. Your papers should feel 'comfortable' and be easy on the eye. Additionally, once you have your paper dialled in, why not share it with industry peers? If the content is targeted and proving value for you, it will most likely provide value for others.
That's it! I hope this article will inspire you to try Paper.li as an alternative to an RSS reader.
Once you set yours up I'd love to hear from you on how it's working. Come back and leave your thoughts in the comment section.